How to Clean a Living Room
Here, we share our best tips for keeping your living room a clean and hygienic space for those happy family moments.
Whether you call it a lounge room, family room or rumpus room, your living rooms are probably some of the busiest areas in your home as family and friends come to relax and spend time together. Here, we share our best tips for keeping your living room a clean and hygienic space for those happy family moments.
Allergens, germs and dust in living rooms
The risk of germs spreading in your living room tends to be lower than other areas of the home, such as the kitchen or bathroom. However, commonly touched objects, like remote controls or light switches, can still be germ hot spots that need regular disinfecting. There can also be an increased risk of germs spreading if you have young children at home, so living room disinfection is especially important in these cases.
While there's less chance for floors and furniture to be a source of infection from germs, they can be prime landing spots for dust and allergens. Debris from dust mites, pollen, mould spores and pet dander can collect on soft furnishing, carpet, curtains, or shelving, which can be a real issue for allergen-sensitive family members. Regular cleaning is important for keeping dust and allergens at bay and controlling indoor allergies.
How to clean your living room hygienically
Hard floors
If your living room has hardwood, tile or vinyl flooring, use a mop, water and appropriate cleaning product to remove dust, dirt and any visible mould growth. Don't feel the need to wait until your floor is visibly dirty to clean it – you should be dusting wood floors regularly, around once a week.
If you have young kids or pets at home and want an extra level of germ protection– or if you're just short on time and don't want to take out the mop and bucket – try using disposable dust wipes, such as Dettol Antibacterial Floor Wipes or the Dettol Floor Cleaning System. Regardless of what method you use, always leave floors to dry completely before allowing children to walk on them.
Carpets and rugs
Vacuuming is the most effective way to remove dust and other debris from your carpet or rug. Just like hard floors, you should aim to vacuum and clean rugs weekly. Invest in a good quality vacuum cleaner to reduce allergens becoming airborne while you vacuum. Rugs should also be washed regularly and dried outside in full sunshine.
Since carpet and rugs can be generally more difficult to clean, hard floors tend to be recommended for reducing dust and allergens in the home.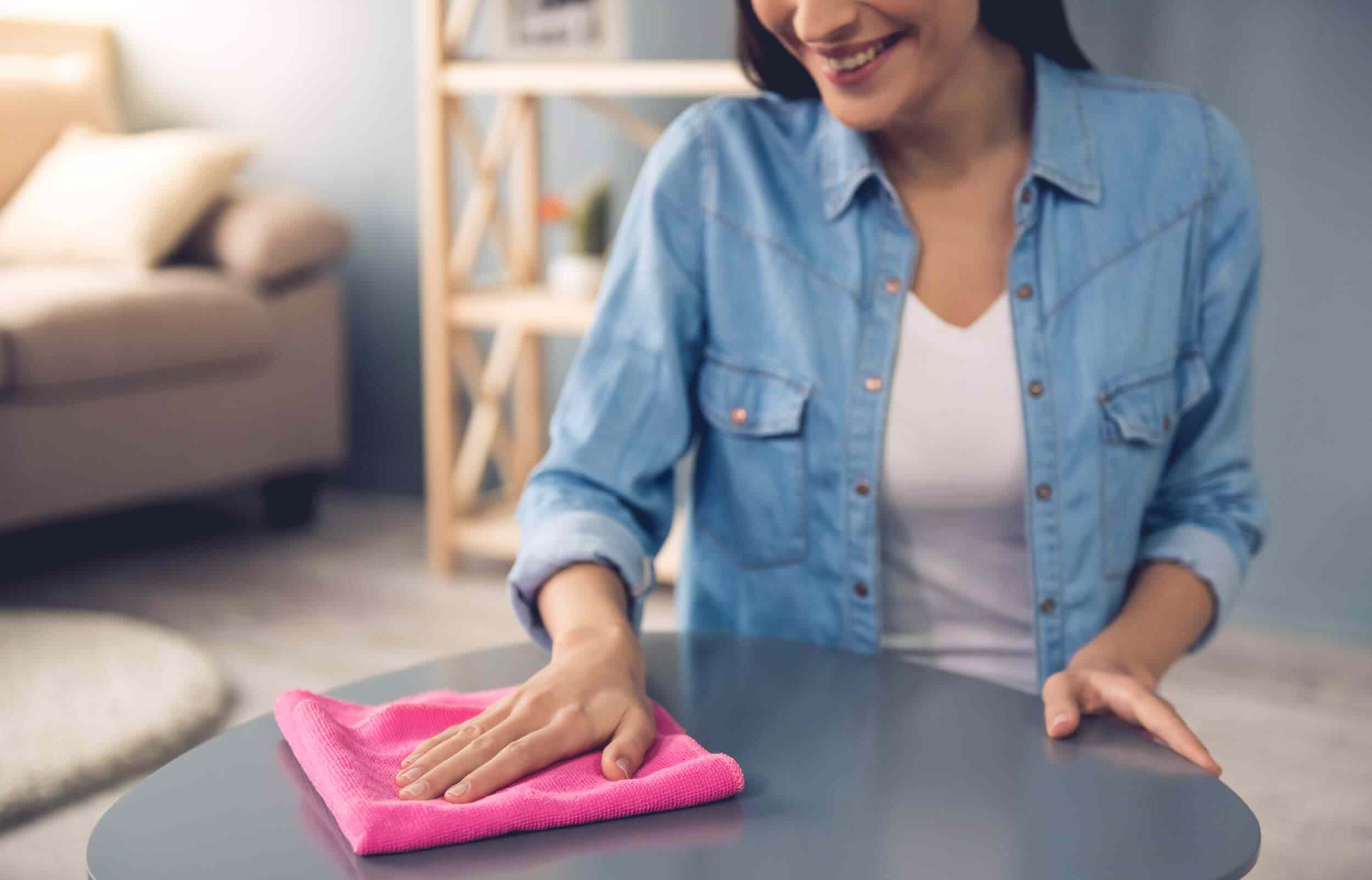 Curtains and blinds
Curtains can attract dust and other allergens in their material folds. If possible, find curtains that are machine-washable so they can be regularly cleaned. Blinds (venetian, vertical or roller) are usually preferable as they tend to collect less dust and can be more easily cleaned. It's best to follow your manufacturer's instructions for cleaning your blinds.
Lounge cleaning
It is important to clean upholstery and soft fabric, as it can trap and collect dust and other allergens. To clean a lounge, such as armchair and sofa cleaning, you should vacuum regularly– many vacuums come with specific attachments for use on soft furniture. If your furniture has removable cushion and seat covers, wash them regularly as well using a hot washing machine cycle.
Hard furniture
Furniture made of leather, vinyl, plastic and wood is preferable over soft furnishings when it comes to limiting the spread allergens. Where possible, try to also choose shelving units with closed doors, rather than open shelving. It's best to use antibacterial furniture spray on hard surfaces once a week, using a dust cloth for furniture, or by damp dusting (using a damp cloth to wipe away dust). Both methods help to stop allergens from becoming airborne.
Other living room surfaces
There are a lot of other surfaces in your living room which can be dust traps – think paintings, photographs, mirrors, ornaments, books, lampshades, and so on. To prevent allergens from becoming airborne, clean these items at least once a week by damp dusting or with a dust-collecting cloth.
Remember, the items you have on display, the more surfaces there are to keep clean. Minimising clutter or placing hard-to-clean items in closed display cabinets can help reduce exposure to dust and make cleaning easier.
Reducing the spread of germs in the living room
Commonly touched items can be a source of germs in the living room, so it's important to keep them clean and disinfected to avoid spreading germs from person to person. These hot spots can include:
TV remote
Light switches
Door handles
Shared tablets or devices
Since these items tend to have small surface areas, try using Dettol Disinfectant Wipes – they are convenient to use and contain a hospital grade disinfectant.
Another time to be mindful of germs is if there has been a spill of body fluids, such as blood, vomit or urine. These need to be cleaned up as soon as possible with disposable cloths or paper towels, then disinfected with an antibacterial product. For carpet and lounge cleaning that can't be done by washing, consider getting professional steam cleaning.
Finally, walls or tiled surfaces where moisture can accumulate should also be regularly cleaned, disinfected and properly maintained to prevent the build-up of mould. Mould growth can also happen if your carpet is damp, so make it a priority to quickly and thoroughly dry your carpet if it does become wet.
Cleaning products and supplies
There can be many different types of surfaces in the living room, so you may need a variety of different products and supplies for cleaning. Luckily, there are a wide range of options available in Australia to make it easy. Here are some of our best tips for choosing products and keeping your cleaning supplies hygienic:
Choose products specific to the surface you want to clean to ensure that you don't damage your floors or furniture – read the product labels to ensure they are suitable
Make sure to keep cleaning products stored securely, away from young children
When possible, use disposable cleaning cloths or disinfect them after every use


You can do this by rinsing it in detergent and hot water, followed by soaking in boiling water for two minutes, or putting it in the dishwasher or washing machine on a 60°C cycle. Make sure to thoroughly dry them afterwards.

Clean, disinfect and dry your mop and bucket immediately after each use so it doesn't become a source of bacteria
Always wash your hands after cleaning to remove any residual germs
When your living room is clean and hygienic, you can feel confident that you're keeping your family and friends healthy while they're enjoying your home. Interested in more home hygiene tips? Check out our articles on kitchen and bathroom cleaning!