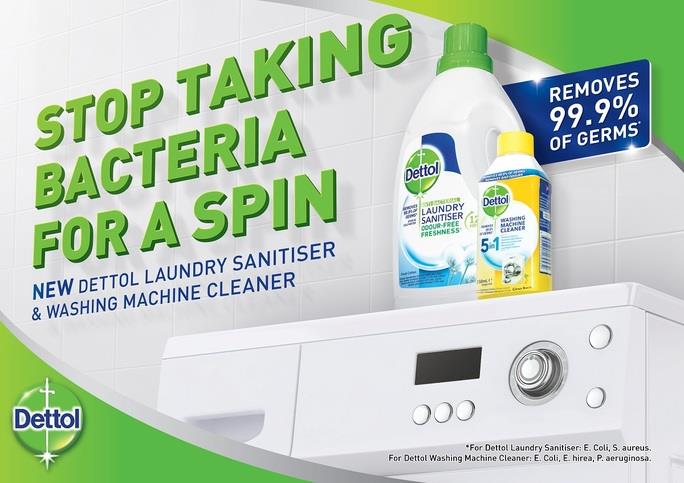 Using cold cycles may be great for saving energy, but it could mean bacteria and germs aren't being properly removed from your laundry. That's not to say you have to turn up the heat – with Dettol Antibacterial Laundry Sanitiser, you can confidently remove germs even in cold water (from 20oC).
Detergent alone isn't always enough
Every day, our clothes and linen pick up bacteria and other germs. These germs can come from our own bodies, like sweat. They can also come from our surroundings, through contact with our pets or someone who's sick. Your clothes can even pick up germs from the washing machine itself!
Most of these germs will be harmless, but sometimes they can make us ill. Washing our dirty laundry is important not just so our clothes look clean and smell fresh, but to protect us from cross-infection and disease.
Unfortunately, detergent alone isn't always enough to effectively remove germs in the wash, particularly when washing at lower temperatures (below 60C). Laundry may look clean, but that doesn't mean it's hygienically clean. And that unpleasant musty smell that may linger even after washing? This can be caused by surviving bacteria that have been able to grow, especially if the laundry has been left damp.
Washing at 60C is not always possible nor energy efficient. That's where special laundry additives like Dettol Laundry Sanitiser come in. Containing antibacterial chemicals that are released during the rinse cycle and remain on the fabric after laundering, it helps remove the germs that detergents can't while also providing lasting germ protection.
You can read more of our best tips for hygienically clean laundry here.
Dettol Antibacterial Laundry Sanitiser removes 99.9% of germs* even in cold water
Available in Fresh Cotton or Natural Eucalyptus fragrances, Dettol Laundry Sanitiser is specifically formulated to be gentle on fabrics but tough on germs.
Whether you have a front loader, top loader or need to hand wash, you can get hygienically clean and fresh-smelling laundry every time – even in cold water.

 Removes 99.9% of Germs

 Works in Cold Water
 From 20°C

12 Hours Odour Free Freshness
 On washed wet clothing left in washing machine

Suitable for Front & Top Loaders
 Or even use in hand washing!

Dermatologically Tested

Specially Designed for Fabrics
Suitable for towels, clothing, sweaty sports gear, underwear, socks, bedding ...and more
How to use Dettol Laundry Sanitiser: 3 easy steps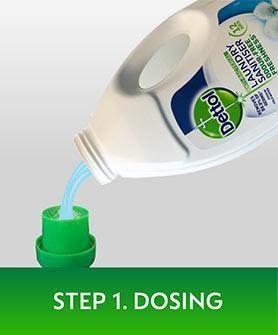 FRESH COTTON:
Front Loader: Use 2 capfuls of liquid for a regular load.
Top loader: Use 3.5 capfuls of liquid for a regular load.
NATURAL EUCALYPTUS:
For both front and top loaders, use 60ml for a regular load.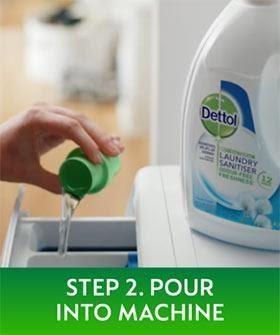 Add your measured dose to the fabric softener dispenser of your washing machine, either in place of or in addition to your fabric softener.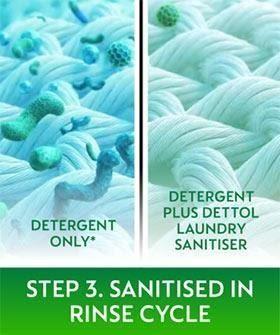 Dettol Laundry Sanitiser will be automatically activated in the final rinse cycle of your wash.
If your top loader doesn't have a fabric softener dispenser: wash laundry as usual, and only apply Dettol Laundry Sanitiser to the final deep rinse cycle of your wash.
For hand washing:
Wash and rinse your laundry as usual.

FRESH COTTON: Add 1 capful of Dettol Laundry Sanitiser to 2.5L of water and soak the laundry for 10 minutes.

Rinse if desired, then dry clothes as usual.